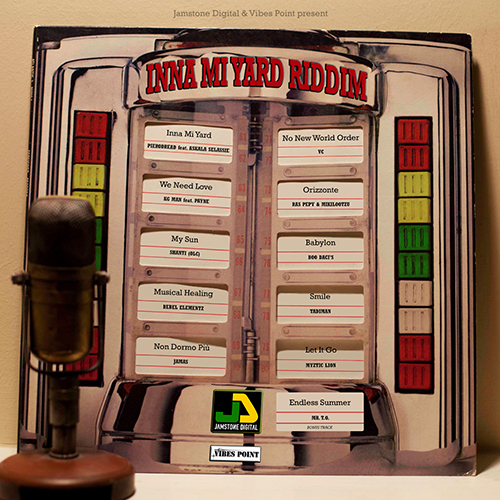 "Inna Mi Yard" is the second riddim project by Jamstone Digital, produced alongside Pierodread's Vibes Point and featuring a reggae superstar from the nineties, Valton "By His Deeds" Craigie better known as VC. Two good combinations are included: Pierodread featuring the talented UK based singer Askala Selassie with the track who named the riddim, and KG Man (from Quartiere Coffee) featuring the young Jamaican talent Payne (finalist at Magnum King & Queens 2013). Sicily land is well represented with Timpakatona's debut, Shanti (OLC) and another talented crew named Boo Daci's, but two more tracks are signed by italian young artistes, Jamas, Mr. T.O. (from Rootical Foundation band) and Myztic Lion. Rebel Elementz from Austria and Tadiman from Slovenia complete the package.
For more details please follow the links or visit the Label section and check "Our Artistes" menu on the right.
© 2014 Jamstone Digital/Vibes Point
Tracklist:
01. Pierodread feat. Askala Selassie - Inna Me Yard (*)
02. VC - New World Order
03. KG Man feat. Payne - We Need Love
04. Ras Pepy & Mikilootzu (Timpakatona) - Orizzonte
05. Shanti (OLC) - My Sun
06. Boo Daci's - Babylon
07. Rebel Elementz - Musical Healing
08. Tadiman - Smile
09. Jamas - Non Dormo Più
10. Myztic Lion - Let It Go
11. Mr. T.O. - Endless Summer

(*) Prod. by Vibes Point and included in Pierodread's album "More Vibes" (2013 Goodfellas).
---