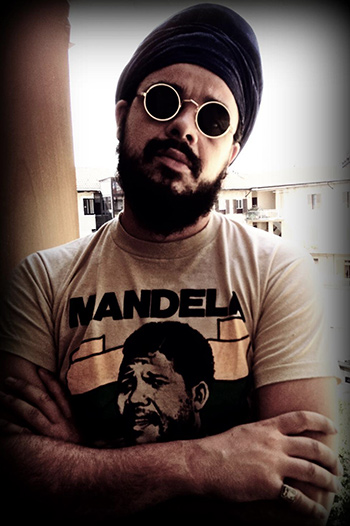 Shanti, singer originally from Catania (Sicily), entered the world of black music during the nineties passing through Teatro Regio in Turin, but it's in the new millennium that his journey found the road to reggae and raggamuffin.
He began with a lot of featurings on the main stages of the local and national scene, spreading the music and enlivening Jamaican and Italian artistes. From 2008 to 2011 he joined the main reggae events. With the band (who took his name) he joined the European Reggae Contest at Rototom Sunsplash 2009, gaining the 9th place over 40 participants. Shanti also joined NextOne Age of Acquarius (one of the main hip hop national events with artistes, beatmakers, writers and breakers from all over the world) for years. He shared the stage with a lot of italian and foreign artistes.
A further characteristic of the artist is his propensity towards social: founder of the Original Latin Coste Crew (which featured, over the years, many artists now integrated in the scene), a movement growing up constantly. He moves in the territory approaching reality with issues related to children, to whom teaches the basics, instills passion and provides the means to make music and use this art as a positive element and commitment.
Among the many initiatives: Carcere Minorile Ferrante Aporti, Ass. Finestra sulla Piazza di Porta Palazzo, Agio@Disagio project with children of elementary schools in the "Barriera di Milano" district in Turin.
His own production of various singles and videoclips was a great contribution to the creation of a character, enshrining the unshakable presence of a large slice of audience confirmed by downloads (more than 20.000) reached by his album "Reggae Reggae Reggae" (2011), which allowed him to tour all around Italy.
He previously released a demo (A.F.T. L'Altra Faccia di Torino, "Irruenti" - 2005/2006), and a third project named "Inna Di School", out on May 2012, in which he defines his versatility voicing different styles of music.
Such stylistic versatility is confirmed one year later with the new EP "Bashment Attitude", with bashment dancehall sonority, up to date and according to melodical news from Jamaican world.
In 2014 he joined KarkaFam family with Karkadan, Yung Da Finest, Frank the Specialist and others. By this time he's working on his fifth solo album, as well as the upcoming mixtape totally signed by KarkaFam.
Shanti's debut with Jamstone Digital is on the INNA MI YARD riddim, with a tune also included in the "Sicily Edition".
If you want to stay updated on Shanti please visit his Facebook official page.