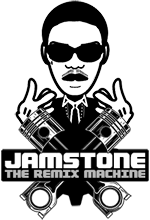 Welcome to Jamstone Digital, the free distribution label and headquarter of Jamstone Sound a.k.a. The Remix Machine.
Check the VIDEOS section where you can watch ALL OUR VIDEOS (a lot of them are not available inside JAMSTONE TV on YouTube) in streaming.
Most of the videos are also available FOR FREE in MP4 format for all your mobile devices.
More to come, stay tuned and share our things everywhere and everytime you want..!