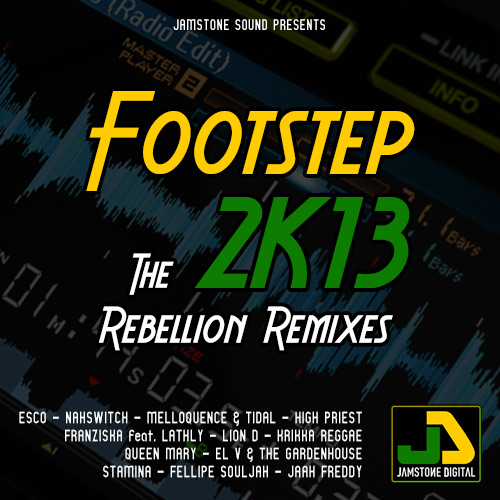 Footstep Riddim was released in 2009 and featured a lot of artists coming from Jamaica, Italy and the whole world.
Four years later Jamstone Digital revisited some of the hottest Footstep tunes, which fit good the wicked REBELLION riddim, released by DJ Karim for Stainless Music.
Don't forget to download both FOOTSTEP RIDDIM original cds (Promo and Bonus) for FREE.
All tracks mixed by Diego DJ & Emmanuel @ Jamstone Studio
© 2013 Jamstone Digital
Tracklist:
01. Esco - Highest Of Di Highest (2k13 Remix)
02. Nahswitch - Marijuana (2k13 Remix)
03. Melloquence & Tidal - What About Di Youths Dem (2k13 Remix)
04. High Priest - Hold The Faith (2k13 Remix)
05. Franziska feat. Lathly - Freedom (2k13 Remix)
06. Lion D - Take Care (2k13 Remix)
07. Queen Mary - Run Faster (2k13 Remix)
08. Krikka Reggae - La Verita (2k13 Remix)
09. EL V & The Gardenhouse - En Mi Barrio (2k13 Remix)
10. Stamina Crew - Big Big Big (2k13 Remix)
11. Fellipe Souljah - True Love (2k13 Remix)
12. Jaah Freddy - Gore (2k13 Remix)

Credits
Rebellion Riddim: released by DJ Karim for Stainless Records
Artistes 01./04. from Jamaica
Artistes 05./09. from Italy
Artist 10. from Germany
Artist 11. from Brazil
Artist 12. from Ivory Coast
---