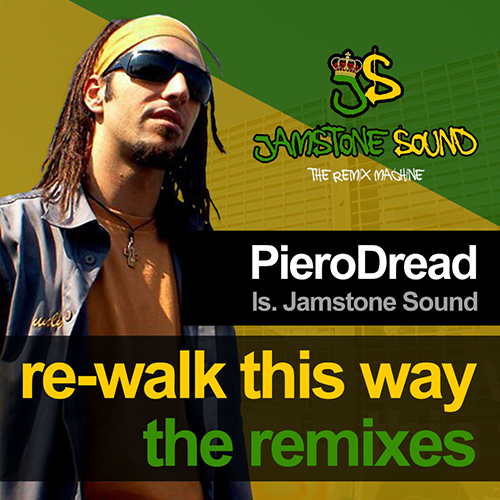 Jamstone Sound revisiting some of the hits made by PIERODREAD, singer and leading guitar of FRANZISKA band, getting stronger in his solo career.
In this pack two Franziska-era tracks are included, with guests like Jah Son (the other Franziska leading voice), Bunna (Africa Unite) and Freddie McGregor, but also his latest productions like the combination with Anthony B and the single "Leave You No More", released by Goldcup Records.
For more infos about PieroDread, to listen and buy the original versions of the tunes please visit his official website.
All tracks mixed by Diego DJ & Emmanuel @ Jamstone Studio
© 2012 Jamstone Digital
Tracklist:
1. So Precious Remix feat. Anthony B
2. Down To The Ground Remix feat. Bunna & Jah Son
3. Big Ship Remix feat. Freddie McGregor
4. Walk This Way Reggae Remix
5. Lord Guide Di Youths Remix
6. Leave You No More Remix
7. Walk This Way Dancehall Remix

Credits
(1) Just Friends riddim (Techniques)
(2) Good Girl Gone Bad riddim (Head Concussion)
(3) Battlefield riddim (Gumption/Tuff Riddim Records)
(4) Jah Jah riddim (Soulove Records)
(5) Cognition riddim (Kingstone)
(6) Revival Dub riddim (Black Scorpio)
(7) Fallen Soldiers riddim (Star Kutt)
---
You may also like