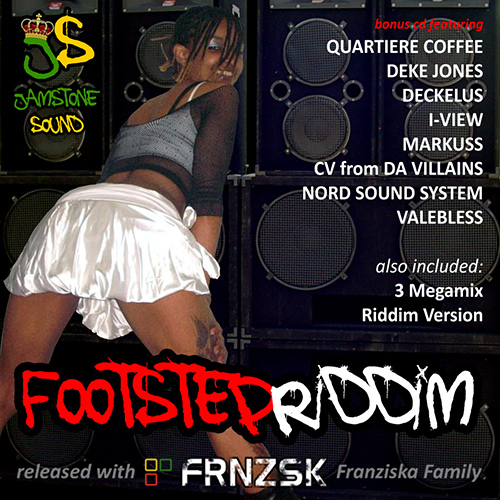 Jamaican Medley
Italian Medley
World Medley

Footstep Riddim project is born in combination between Jamstone Sound and Franziska, who voiced the first pearl pon di version titled "Freedom" (featuring Lathly).
This was Jamstone Sound first experience as riddim producers, and our first thought was to give an opportunity especially to unknown and upcoming talents: the aim of the project was not to make money selling music, but promoting our sound and all artistes who took part of this adventure.
Special thanks goes to: DANCEHALL QUEEN CHRISS (the cover girl), CIRETNEK PRODUZIONI, ONE STEP RECORDS, BIZZARRI RECORDS, RUDEGAL ENTERTAINMENT, RADIO RETE 104, ROTOTOM SUNSPLASH, RADIO BASE POPOLARE NETWORK, RASTASNOB.
© 2009 Jamstone Digital
Bonus CD tracklist:
01 ‐ Quartiere Coffee – Youth (Italy)
02 ‐ Deke Jones ‐ Slaughter Now (U.S.A.)
03 ‐ Deckelus ‐ Let Me Be Free (Grenada)
04 ‐ I‐View ‐ Think Before You Act (Jamaica)
05 ‐ CV from Da Villains – Weed (U.S.A.)
06 ‐ Markuss ‐ She Told Me (U.S.A.)
07 ‐ Nord Sound System ‐ Steps For Freedom (Italy)
08 ‐ Valebless from We And Them ‐ Peak & Bottom (Italy)
09 ‐ Various Artists - Footstep Riddim Jamaican Mix
10 ‐ Various Artists - Footstep Riddim Italian Mix
11 ‐ Various Artists - Footstep Riddim World Mix
12 ‐ Footstep Riddim Version
In 2013 some tunes has been remixed by Jamstone Sound on the Rebellion riddim (DJ Karim), check the whole package for FREE..!
---